Happy Release Day to Brenda Rothert and her new book KILLIAN!
Read a sneak peek into the book below and make sure to enter the giveaway! Good luck!
♥ BUY THE BOOK ♥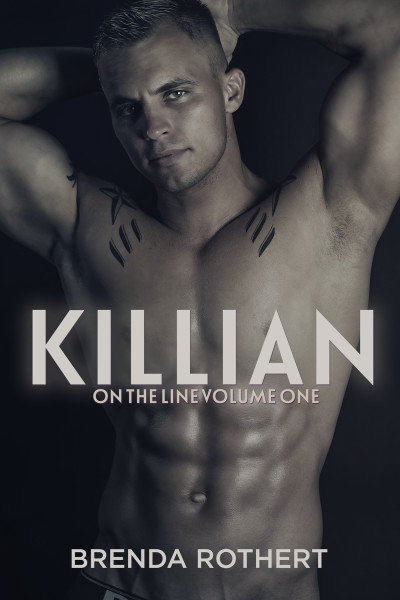 Killian Bosch knows he's his own worst enemy – he just doesn't give a damn. The star forward of a minor league hockey team, he's unstoppable on the ice. His reckless behavior, devil-may-care attitude and complete disregard for consequences have made him a major source of headaches for the Fenway Flyers' brass. But the new Flyers owner is more steel than brass. Sidney Stahl is a disciplined woman who parlayed earnings from a college job into a real estate empire. She's determined to transform the Flyers from marketing nightmare to hockey powerhouse. Once she gets Killian in line, she knows the rest of the team will follow his lead.
The seduction of his sexy new team owner is a challenge too forbidden for Killian to resist. Sidney plays into his attraction as a means of controlling him, but soon finds that she's the one surrendering. It's all on the line as Killian and Sidney are forced to choose - business or pleasure?


My mind was jerked back to the present when I became aware the coach had moved on from his teaching lesson. "The new owner's upstairs watching practice," Orion announced, giving us the evil eye. We all looked up in the direction of the owner's box, but I couldn't see anyone standing inside. Orion turned to Bruce, the Flyers assistant coach, and spoke in a voice loud enough that no one could miss what he was saying, "Bruce, did we not have a meeting with the new owner before practice this morning?" Bruce nodded his agreement. "Tell me if I remember this right, Bruce." Orion continued. "Did she tell us this team will be undergoing some major changes? That we'll be making cuts and bringing in new talent?" "That's right, Coach," Bruce said in an even tone. Sighs and shuffling from around me indicated nervousness. I had nothing to worry about. I was the captain of the team and probably the best player here, though Bennett was a very close second. But the idea of cutting the dead weight got my attention. I was as disgusted as Orion with the record of our team. It was fucking embarrassing. He'd been brought in by the new ownership to turn things around and it sounded like that was about to happen. "I've been here two weeks," he said. "I've given all of you a chance to show me you want to be on this team. Starting today, there'll be one on one meetings between some of you and the new owner. Later on, Bruce and I will talk to each of you individually to let you know who's staying and who's going. Now back to the fucking play, boys." As we turned to get back in line, Orion called Liam's name. "You're up first with the owner," he said. "You know where her office is?" My head swiveled to look at Orion. Her? The new owner was a woman? Fucking hell. A woman wouldn't be able to make the tough decisions this team needed to recover from its place at the bottom of the league. And what about Liam? He was a quiet, solid player on the first line. What the hell did the new ownership want with him? I wanted to go with him to that meeting, but that was never going to happen. Liam skated over to the bench and I glanced back up at the owner's box, glowering. Anybody who fucked with Liam was also fucking with me. I had nothing to lose, and a man with nothing to lose was never someone you wanted to fuck with. Especially not by some woman who thought she could overhaul this team and turn things around. Others had tried and failed. She would be no different.
Killian Bosh is a brilliant hockey player, his plays are sharp, and he has the respect of his new coach and teammates. Although he has the ability to play with the best of them, he keeps sabotaging himself. His attitude and his ability to get in trouble, from bar fights to bad publicity due to the company he keeps, are his worst enemies. But not even Killian's love and devotion of the game can dig out his team, The Flyers, from the hole they're in.

Sidney Stahl is a savy and intelligent business woman, who just recently bought the Flyers and who's mission is to make them a winning team. Her first order of business being getting rid of the players that are not working out and change the attitudes of the trouble makers.
When Sidney and Killian meet they can't deny the chemistry between them, it's sizzling and palpable, and even though they know nothing can happen between them because of their boss/employee relationship, they can't hide the attraction they feel for each other.

Unknowingly they both become what the other needs. Sidney is the force Killian needs to change his attitude around and strive for bigger and better when it comes to his career, while Killian is the unconditional support system Sidney so much needs.

I just love Brenda's style of writing, her ability to take the reader into the character's story. You have a pretty strong alpha male, but you also have a kick ass leading lady who doesn't let anyone put her down or push her around. These two are two forces to be reckoned with.
There is some angst throughout the book, but mostly these are two mature characters in a journey of self discovering. I also have to mention that Brenda wrote in this book one of the most sensual scenes I've ever read. It's beautiful, it's powerful, and it will take your breath away.
Go ahead and give Killian a chance, I promise he will not disappoint. I can't wait for the next books in this series!!!


Brenda Rothert lives in Central Illinois with her husband and three sons. She was a daily print journalist for nine years, during which time she enjoyed writing a wide range of stories.
These days Brenda writes New Adult Romance in the Contemporary and Dystopian genres. She loves to hear from readers by email at bjrothert@sbcglobal.net.

a Rafflecopter giveaway