NOW LIVE!!!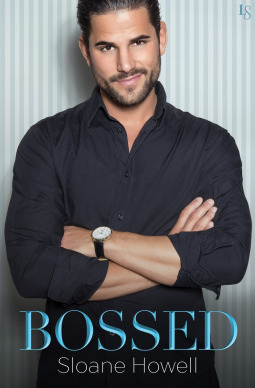 Synopsis

In this provocative and sexy* office romance, a cheeky new hire tempts a hotshot sports agent to mix business with pleasure.

Jenny: Job interviews are a bitch under the best of circumstances, but when your potential boss is the world's biggest prick, that's when you should simply walk away. It's just that I need this job so badly—and I'm mesmerized by Ethan Mason's piercing gaze. Men like him aren't supposed to exist in real life. But under the tailored suits and GQ looks, Ethan simmers with barely restrained ambition. And no matter how hard I work to fight the attraction, I'm going to get burned.

Ethan: You don't become a top agent without learning how to close a deal. I always get what—or who—I want, by staying cool and in command. Then Jenny Jackson walks into my office with her lush curves and "screw you" attitude and blows away my intentions of keeping things professional. All I can think about is exploring the perfect body hidden beneath those conservative clothes or shutting her saucy mouth with one hot kiss. Jenny's worth breaking the rules over—if I can convince her to break the rules for me.


*By sexy, we mean sexy. Like, 18+ sexy.
Buy Links
Amazon US ➜
http://amzn.to/2bylJyK
Amazon UK ➜
https://goo.gl/PRH9HO
Amazon AU ➜
https://goo.gl/DkCddj
Amazon CA ➜
https://goo.gl/fGSeMK
B&N ➜
http://goo.gl/JTHdPd
Ibooks ➜
https://itun.es/us/auTCeb.l
Kobo ➜
https://goo.gl/lqyMMd
Google Play ➜
https://goo.gl/FkBdST
Add to Goodreads TBR ➜
https://goo.gl/86ttxB
Review
When I first started reading this book it reminded me of another author's work, just because I loved the way Ethan's character was written. Then I found out the author was a guy which surprised me as well, because not because the author is male he knows how to write a proper male character. But I was beyond happy to find out that not only Ethan's character was well written and developed, but also to find out that Jenny was a strong character, that was not going to let him get away with his "male tantrums."

From the get go the banter between Jenny and Ethan is not only humorous, but sexy and she let's him know that she's a strong, independent woman who's not going to take grieve from anyone, not even a handsome man. I also loved the relationship Jenny had with her father, it reminded me of my own relationship with my dad and it made me understand her character much more and it made her relatable. Ethan starts as a bit of a stuck up, strong will, not so nice guy but as the story progresses we can see the changes in him and he'll make you start liking him and understanding him better.

The secondary characters (Jenny and Ethan's best friends, as well as Jenny's dad) were perfect helping the two main characters make this a remarkable story. I liked that the author kept a good pace to the storyline and didn't get the characters in bed right away, plenty of sexual tension between Ethan and Jenny at the beginning that didn't need them to fell in bed right away.

I'm hoping that Kelsey and Matt get their own book because I think those two can be explosive together. Bossed a sensual, intense love story that I enjoy immensely. And I found a new author to follow. Win/win.
About the Author
Sloane Howell lives in the Midwest and writes hot romance stories. A former college baseball player turned author, he enjoys hanging out with his family, watching sports, traveling, and engaging his readers on social media. You can almost always catch him goofing off on Facebook or Twitter and trying to convince Mrs. Howell that it's "work."